IS YOUR ROOF BEYOND REPAIR?
After a thorough roof inspection, you've discovered that your
roof is leaking
not only to the point of repairs, but to the point of needing a complete replacement. You've discovered what needs to be done to your roof, and the next step is finding the contractor who will be replacing it. As we stated with making repairs, it's important to contact a quality roof contractor that you can trust and rely on. You don't want to constantly monitor what the contractor is doing, what they are saying around your customers, or how they are billing you for their work. In many cases, billing you for work they didn't actually do!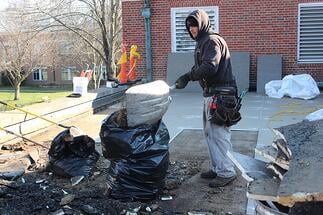 Tearing Out
If you are going to replace your roof, the first step is going to be
tearing out your existing roof
. You'll need to install a new roof in place of the old roof, so you've got to get that old roof out of the way. The tear-off process can take a long time and require a lot of labor. This can get expensive and extend the amount of time your building is exposed to the elements. Make sure you find a roofing contractor that can get the job done quickly and effectively.
Replacing
Once the roof has been
torn out
, you'll need to install the new roof, the "replacement" stage. This can be extremely cumbersome and time consuming, especially if structural issues are discovered after the removal of the old roof. This will take a long time, plenty of money and labor, and may be a difficult issue you have to work through. If your roof reaches the stage where you have to replace it, you may need to prepare yourself for a headache.
Conclusion
Replacing a leaking roof is a long process that is difficult and can be frustrating. Don't ignore roof leaks and let it get to this point. Take care of the issues immediately and save yourself time and money.